'Tis the Season for Salt – The Health Ramifications of Salt in our Diets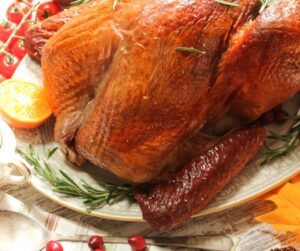 It's that time of year again.
The air is cool and the leaves are crisp, and though our sense of smell may be dampened with mask-wearing, we can almost taste a traditional Thanksgiving meal! While experts tell us to refrain from family gatherings, we may ponder dropping off meals for loved ones or consider purchasing store or restaurant prepared dinners.
One thing we might not consider is the amount of sodium there is in home or prepared dinners, and the health ramifications of salt.
Our kidneys naturally balance the amount of sodium stored in our bodies for optimal health. When body sodium is low, kidneys hold on to sodium. When body sodium is high, our kidneys excrete excess sodium in our urine. Chronic kidney disease, congestive heart failure and cirrhosis make it hard for kidneys to balance sodium levels.
If our kidneys can't eliminate sodium sufficiently, it will build up in the blood and attract and hold water. This increases blood volume, forcing the heart to work harder and increasing pressure in arteries.
Gravity keeps blood lower in our bodies. This further increases pressure in the vessels in our legs and feet and can cause fluid to leak into these tissues. Sitting or standing for too long can also result in swollen legs and ankles at the end of the day.
The 2015-2020 Dietary Guidelines for Americans recommends consuming no more than 2,300 milligrams of sodium (1 teaspoon of salt) a day for healthy individuals, while everyone over age 51 and those with high blood pressure, diabetes, or kidney disease should take in 1,500 milligrams a day. Patients with cardiovascular diseases may require even stricter intakes, and should discuss this with their doctor.
As recent evidence suggests that even a single high-sodium meal can temporarily impair blood vessel function, staying away from high-sodium meals is important for everyone. Food items that contain a lot of sodium include cold cuts, many (especially canned) soups, and condiments such as ketchup, soy sauce, and……..gravy!
By eating potassium-rich foods like bananas and spinach, and drinking plenty of water, we can attempt to balance our sodium levels. Yet certain disease processes can even force some to limit fluid intake, so discussing individual needs with a doctor is paramount.
Support family members with heart disease, high blood pressure, or chronically swollen legs in adhering to their physicians' dietary recommendations. Using low-sodium recipes, avoiding processed foods, reading labels, and requesting the nutritional content of prepared foods and/or ordering low-sodium meals are all excellent practices.
Sudden changes in blood pressure or sudden increased swelling in one's legs should prompt a call to the doctor.
Chronic lower leg edema and resulting skin ulcerations can be problematic. Swollen legs can cause swollen feet, resulting in ill-fitting shoes. This predisposes one to blisters, abrasions, or worse- foot ulcers. At Tri-State Foot and Ankle Center, our staff is qualified to treat wounds, including those associated with chronic lower leg edema. We also assist patients in finding appropriate shoe gear. Additionally, we can coordinate your care with primary and vascular physicians.
We hope that you keep these things in mind when enjoying the coming holiday. Should you have any questions or seek more information, feel free to call one of our offices at (Naamans Road location) 302-475-1299 or (Hockessin) 302-239-1625 or visit our Facebook page.
Happy Thanksgiving Everyone!
Sincerely,
Dr. Gruber, Dr. Hudak, Dr. Lund and the staff at Tri-State Foot and Ankle Center