About Our Practice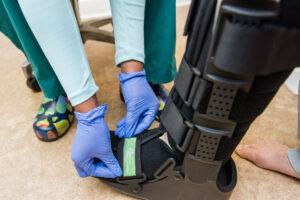 Drs. Gruber, Hudak, and Lund are here to provide you with treatments which are most appropriate for your condition and lifestyle.
Drs. Harold Gruber and Sandra Hudak met and initially worked in the Northwestern and Northern parts of Virginia. In 2004, Dr. Gruber established Tri-State Foot and Ankle Center in North Wilmington, Delaware. Upon Dr. Hudak's arrival in 2005, Tri-State Foot and Ankle Center expanded to include the Hockessin location. By 2018, the doctors were happy to have Dr. Alexis Lund join them in practice. She has been a wonderful addition to our group, and has been readily accepted by our patients and staff!
Each of our doctors has completed comprehensive training which enables them to diagnose and treat all foot and ankle conditions, surgically or non-surgically. For patient convenience, minor surgical treatments can be performed in our offices. Diagnostic services provided include foot and ankle X-rays, and foot and leg circulation studies. Non-medicinal therapy for healing and pain management is provided with in-office laser treatments. Laser treatment is also available for the treatment of nail fungus.
Our doctors all adhere to the same practice goal; to offer superior care in a setting which is efficient, ethical, and personable.
"We are working to keep you walking, working, running, jumping, and living!"



At Tri-State Foot and Ankle Center, Our Goals Are To:
• Make you comfortable, by treating you with respect and by providing you with an efficient, friendly office setting.
• Listen and learn about the problem you are having and how it has affected you.
• Examine you in a complete and thorough fashion, taking into consideration all of the factors which may be leading to your problem.
•Educate you on your condition, so that you understand it.
• Present treatment options, surgical or conservative, which best suit your needs, physically, emotionally, and environmentally.
• Execute this treatment in the most conscientious, expert fashion, while remaining available for questions and emergencies.
• Maintain a lasting relationship, availing ourselves to you and your family for future foot and ankle care. Want to keep in touch? Join us on Facebook!