Show Your Feet Some Love – They Need Love Too!
It's that time of year again, and Valentine's Day is approaching quickly! Not making that restaurant reservation? Denying yourself the heart full of chocolates due to frustrating Covid-19 weight gain?
Our feet carry us through the best and darkest days or our lives. They are the foundation for movement, and take us where we need to go. Yet so many of us ignore them! Are they too far away from our hearts to "matter"? We let our shoes become overly worn, our calluses become overly thickened, our skin get dry, and – well – those toenails! A story all unto themselves! For those who have been home more than usual, the bare footing has been good for bunions, but worse for nagging heel pain. So this Valentine's day, why not show your feet some love!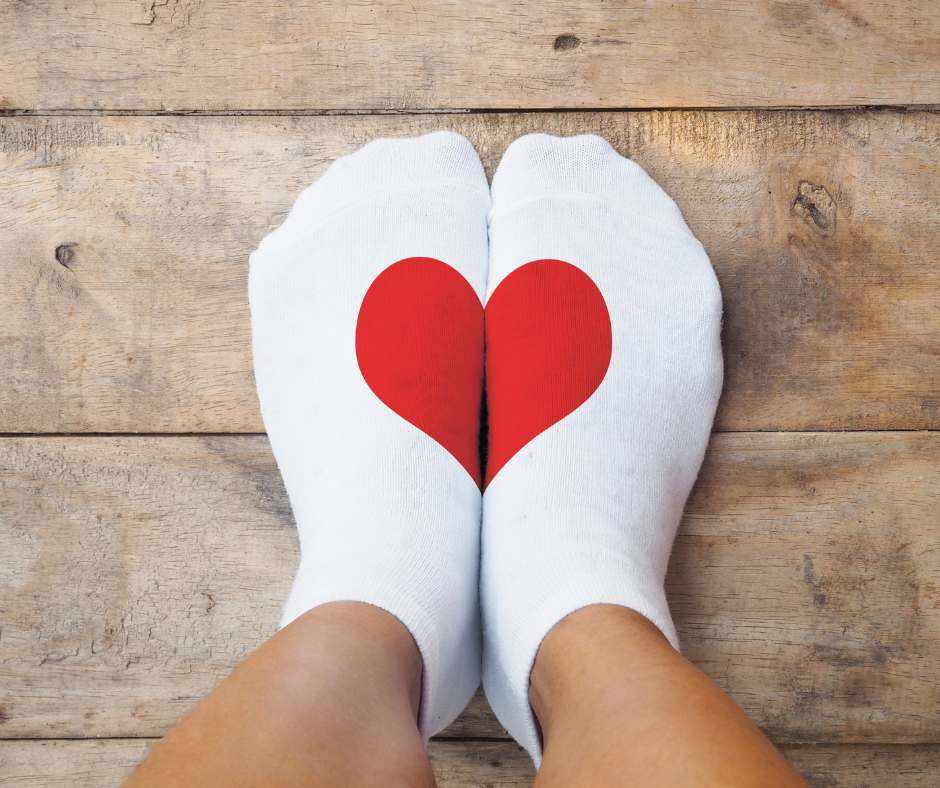 Here are our top "show them some love" suggestions!
Address your pain.
Working from home? Perhaps now is the better time to have that surgery for bunion or hammertoe pain! Soon enough we should be back to our regular routines, and back to dealing with the pain that wearing shoes causes. At Tri-State Foot and Ankle Center, we will review your deformity, your surgical options, and the timelines for healing. On the other hand, our non-surgical recommendations may help greatly reduce or eliminate your pain, allowing you to avoid surgery altogether. Wouldn't that be a sweet treat? We have years of experience pairing patients with the right shoe-gear, stretching routines, products and therapies, resulting in relief, increased activity, and a better quality of life!
Don't ignore your toenails!
Treat yourself by taking a good look. If your nails are thickened, discolored, or painful, call us for an appointment. Discoloration under or within a nail can be the result of a growth in your nail bed, such as a melanoma. While these are rare, they do occur and can be life-threatening. Evaluations are paramount for timely diagnosis and treatment. More commonly, thickening and discoloration is caused by toenail fungus. At Tri-State foot and ankle center, we now offer full coverage Fungal Eradication Kits, which contain topical anti-fungal skin and toenail medication as well as a shoe sanitizing spray (great for slippers too!). Finally, our Aspen Pinnacle Laser has helped to clear unsightly fungal infections from so many of our patients' nails – so why not yours?
Check in with older family members.
Many of us are still limiting visits with older family members. So start with a phone call to check in. Are they having pain? Have they seen any discoloration on their socks or in their shoes or slippers? Are they having trouble with a particular nail or toes? Thickened, hard to trim toenails require professional care every three months, on average. Delaying nail trimmings can cause increased pain, affect balance, and cause undue pressure in shoes, slippers, or even socks. Coupled with circulation issues, increased pressure can lead to skin ulceration and possibly infection. Have questions? Call us for direction. Our offices are adhering to strict Covid-19 safe practice protocols for you and your loved ones.
Ask for a foot massage!
The power of touch can ease our tensions, remind us we're alive, and allow for a moment of pause in our busy, or stressful, days. Massaging the feet can bring blood flow to our skin and help loosen tight muscles and tendons. Don't want to go to the salon? Get your kids involved by asking them to apply cream to your feet or paint your toenails. Best of all, family foot massages are free!
On Valentine's day, we'd all like to be remembered. Our feet are no different! So start building your love not hate relationship with your feet. And let us help deliver the TLC they need!
On behalf of everyone at Tri-State Foot and Ankle Center,
❤️ Happy Valentine's Day ❤️
Hope to see you soon!