Preventing Falls This Fall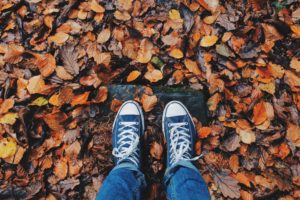 Learn How to Prevent Falls this Fall Season from the Foot Experts!
By: Alexis Lund, DPM
Fall is, undeniably, one of my favorite seasons. When I think of fall, I imagine all the fun activities associated with it: playing in the leaves, visiting the local pumpkin patch, corn maze, and haunted house, making a trip to the stadium to watch a football game, baking an apple pie, and the list goes on! There is simply something for everyone to delight in! It doesn't matter if you prefer maneuvering through a corn maze or dancing around the kitchen to gather ingredients for a pie, all of the above activities involve the risk of falling, and falls can be serious at any age. So, in an effort for you to enjoy the season to the fullest, I have included some tips on preventing falls this fall!
Ways to Prevent Falls Outdoors
• Consider replacing children's regular shoe laces with elastic coiler shoe laces. Not only are they fun, but they limit the chance of tripping since they can't untie.
• Wear slip-resistant shoes. Most shoes, even athletic shoes, are not tested or designed to work in wet, oily conditions. A slip-resistant shoe has a soft rubber outsole and an interlocked tread pattern that doesn't close water in but channels it away from your foot. Merrell has some great options for both men and women!
• Keep an eye out for any wet, oily patches! Walk around them rather than through them.
• Use a cane or a walker. Monitor the rubber tips on the walker legs and cane and replace them before they become worn.
Ways to Prevent Falls Indoors
• Keep rooms free of clutter, especially the floors.
• Make sure that rugs have skid-proof backs or invest in rug gripper tape (3M) or non-slip rug pads to go beneath your rugs to prevent them from sliding.
• Use a non-skid bathmat in the shower or tub.
• Add grab bars in the shower, tub, and near the toilet.
• Make sure that stairs are well-lit and have rails.
• Keep a flashlight next to your bed in the event that you need to get up in the middle of the night.
• Use a sturdy step stool in the kitchen with a handrail and wide steps.
• Wear non-slip socks and slippers with grippy, rubbery soles. If you're a diabetic or an older adult, wearing shoes with a rubber sole is better than wearing any sort of sock or slipper.
Stay safe, everyone, and enjoy the season!