MLS Laser Therapy
Pain Free & Non-Invasive
Help Tristate Foot & Ankle Center Welcome Our Newest Doctor
Alexis Lund, DPM
Suffering from Foot, Ankle or Heel Pain?
The podiatrists at Tri-State Foot and Ankle Center, with offices in North Wilmington, Hockessin and St. Francis Hospital,
are Dedicated to Helping our Patients Enjoy Healthy, Active, and Productive Lives by Providing Surgical and Conservative Treatments for a Multitude of Foot and Ankle Conditions.
Here at Tristate Foot & Ankle Center, our Expert Care Ranges from Providing Simple Routine Exams to Offering Complex Reconstructive Surgical Procedures, Based on Each Patient's Unique Needs. We have Board Certified Physicians that are
Certified by the American Board of Foot and Ankle Surgery and
have held Respected Leadership Roles within the State of Delaware.
We Look Forward to Building a Customized Treatment Plan for You and Welcome You to our Practice.
LOCATIONS
Hockessin, DE
302-239-1625
Wilmington, DE
302-475-1299
St. Francis Hospital
302-475-3376
New To TriState Foot & Ankle!
Introducing our New MLS Laser at Tristate Foot & Ankle!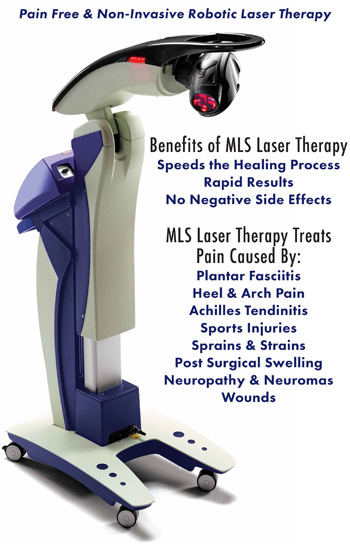 Laser Therapy is the use of specific wavelengths of light to treat painful and debilitating conditions. Laser therapy works with light energy entering the damaged cells and stimulating inter-cellular activity. This reduces pain in the area and speeds recovery of the damaged cells.

Once the cells recover, the healing process is complete. Treatment is painless and lasts an average of 10 minutes. You may experience a comfortable sensation at the point of application. It does not generate heat and is safe to use over implanted metal devices. It is the only Class 4 laser which is safe to use over surgical hardware.

MLS Robotic Laser Therapy has been cleared by the FDA and proven successful as evidenced by extensive and credible studies conducted in our country's finest institutions, including Harvard University.

Many people experience positive results within a few treatments, depending on whether the condition is acute or chronic. Most acute conditions will need 4 to 6 treatments, and most chronic conditions will require 10 to 15 treatments.

To schedule an appointment to discuss laser therapy, please call our office or request an appointment today!
Contact Us Today!
We Accept Most Insurance Plans and Welcome New Patients!
Hockessin Location
722 Yorklyn Rd
Suite 350
Hockessin, DE 19707
Phone: (302) 239-1625
Fax: (302) 239-1626
Wilmington Location
2018 Naaman's Rd
Suite #1
Wilmington, DE 19810
Phone: (302) 475-1299
Fax: (302) 475-0579
St. Francis Hospital Location
701 North Clayton St
Suite 217
Wilmington, DE 19805
Phone: (302) 475-3376
Fax: Call For Fax Number
Email Address: contact@tristatefootandankle.com
#TriStateFootandAnkle